Just wanted to give my 2 cents on this piece of gear, hopefully help someone make a purchase decision, as it is fairly pricey.
I came from a Petzl Sequoia for a tree harness, and I've had alot of time in many different types of harnesses. I've got to say, the MCRS is pretty comfy straight out of the box. I should mention I'm 5'2" and 130 lbs. I didn't have any trouble dialing it in, helps to have somewhere to hang briefly so you can see your adjustments a bit better. I love the rope build, it's insanely easy to inspect, even with tons of gear hanging off it. I haven't hung a big saw from it yet but I barely felt the 16" bar T540 which wasn't as comfortable hanging from the Sequoia. Also, I read a few reviews before buying it where people said there was nowhere to hang gear. That's just wrong. I had to stop adding gear loops after a while 'cause I didn't need more, I was just having too much fun being creative with the extra material that comes with it. Just take a minute to build it perfectly for you and you won't have to touch it again. The webbing provides near endless gear placement solutions. Hanging in it, the range of motion is great, I love using the bottom 2 rings for work positioning with my RE Rockgrab lanyard. I use the lower rings more over the top rings, it's quite comfortable. As other people have said, it does feel very "safe". The bright green of the life support points makes them really easy to identify if you have lots of gear hanging on ya (the Sequoia's side D's were silver and so is alot of kit..). One thing, the top rings you keep your lanyards stored on WILL flop backwards. Just how it goes with this thing.. You'll see in the pic below. It's not an issue to me, but it may be annoying to someone else. Also mentioned by other people, the leg loops are a pain to get in and out of, really wish there was a quick way to slack them off but I like the saddle enough to just get over it. Maybe a tied-off munter or something in future versions? I have to do quite the bent-over hump to get it on. I like the grommet-style belt though, more so than having a buckle, it's easier to adjust for wearing layers. I have had the occasional pressure/pinching from the leg loop ropes and have actually had bruising from it but as I continued to use the saddle, I found that it happened when the leg pads would rotate around a bit, leaving your inner thigh exposed a bit too much and you lean over to do something and get a nasty pressure in a nasty place. After noticing the pad issue, I kept an eye on it and haven't had that pain again since, so if you keep them in place it doesn't hurt. I may add little tiny bungee prusiks attaching the pads to the rope to keep them in place in the future if it persists once the leather is broken in. One last point, I feel the whole saddle is made of top-grade stuff. From the leather to the rope... all good stuff. Except the rings. They're CT aluminum rings and they showed wear from the aluminum lanyard biners almost immediately, (the green ones, not the silver ones obviously). Not a deal breaker, but Petzl's rings stayed nice pretty long, just sayin'.
Today I was messing around with my lanyards, hanging from my basement's rock wall. You can see I have the rope tails long still, I may change the adjustment a tiny it before cutting the them. The singing rock porter had to be put at an angle because if you had it vertically it would interfere with that side ring a bit too much.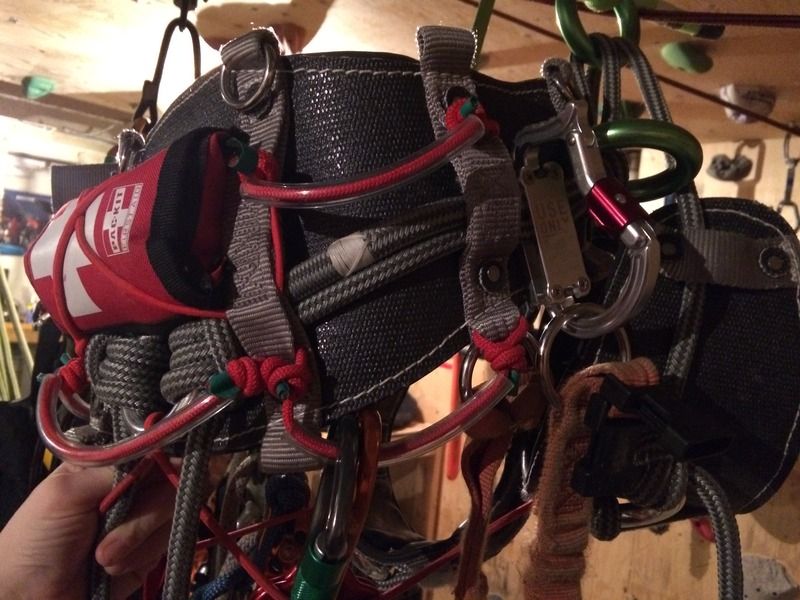 I think that's it for now, I may post another way down the road after it's seen some real wear. Let me know what you think of my review and if you have any questions/comments.
Hope this helps someone!