Here from the beginning
Administrator
Who has a Silky Hook on their saw? Does it hang right? Have you ever bumped it and had it swing and fall off?
When Eugene K was the rep for Silky he showed me the prototype hook that Silky had made for the saw. I told him that it should be changed before it went into production. At Expo I got to talk with the reps from Silky about the Hook
They gave me a copy of the prototype to work with. When I got home from Expo I got to work. I photocopied the Hook and transferred the cutout to card stock. They had a 'round' profile to the Hook. I knew that it wouldn't hang well and could get bumped off. What I did was form to arc/radii to make the profile. Somewhere in my stuff I've got the drawings with the center points laid out. By using a chord from each new radius the Hook is less likely to spin and fall. I made a few prototypes and then transferred the profile to masonite. I had my crew mess around with the options to see which they felt worked best.
The nubbin on the top of the Hook was pointing straight up at Noon. My suggestion was to make it a little longer and angle it to point at about 10:30
After my design work I worked up a clean copy of the Hook with a print of my suggestions. What a treat to see how it turned out. I know that I'm the only one who every notices the Hook LOL.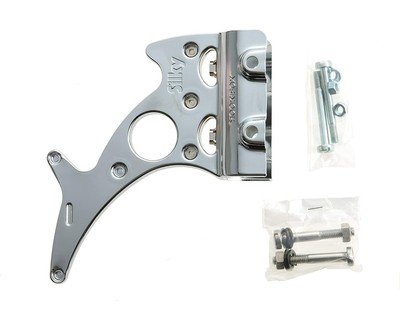 Built-in carabiner hole. Built-in two notches for advancing climbing rope. Mounting hardware is included. From the Manufacturer Hook accessory for hanging pole saw on the branch or pulling branch down.