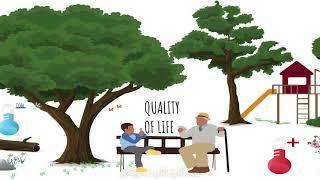 Jonas Suchanek is an arborist, approved ISA member and has a Masters degree in Economics from University of Aberdeen. A pioneer in Arboriculture in India, Jonas started TreeCare so as to provide professional care for the trees, landscapes and green spaces at homes, businesses and communities...
www.ted.com
These are things we've all been saying for years. We are not mere tree cutters. We are atheletes, biologists, ecologists, soil scientists, engineers, and caretakers of the worlds oldest living creatures.
Why have we not banded together to make this field better in North America? Wages have stayed stagnant for decades, most of us do not have benefits, every company you talk to has a critical shortage of well equipped and trained people, and the education resources are limited to a few select avenues. In Washington, we have a real apprenticeship forming through IBEW for the line clearance folks, but rarely do we hear about high paying apprenticeships in the private side. Why? Other countries have done it. Fledgling countries like Singapore have made us look silly in this arena. I don't get how we are some of the lowest paid tradesmen in the country while literally risking life and limb when we do all of the listed above and much more.
My dad is a humble electrician. He makes well over $60 an hour, non foreman, with full benefits and gets to work on a contract basis. We're lucky to eek out $30-$40 working in the elements, at heights, and providing our own equipment and knowledge. How do we have this network of professionals constantly talking on forums and facebook and social media, but we can't come together to train the next generation to be greater than us, to be good stewards of our field and offer truly thrivable wages and the opportunity to learn, grow, and build others into better human beings.
I'd love to know y'alls input in this. I'd traveled the country working coast to coast, sometimes for the big three and others for small ma and pops, and never did find somewhere that lived up to the field's potential. Bartlett had amazing training but shit wages. Davey had no work life balance. Asplundh treated you as disposable but paid well. Ma and pops were just trying to score the next deal, often misleading clients or lying outright to employees since there's 12 guys lined up to come work for cheaper. It's sad. How has the situation not improved over the decade plus that I've been in love with arboriculture? I'm sure many of you see the same thing.
Just my rant for the day.